Gilmorepalooza!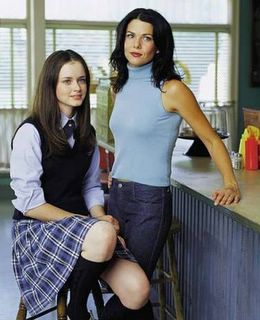 Just a reminder that 8 o'clock tonight is the season finale of
Gilmore Girls
, a WB show I watch and enjoy religiously. If you aren't familiar with the witty comedy of manners, revolving around a sassy innkeeperess (?) and her brainiac daughter, you can start checking out the reruns of previous seasons that air on ABC Family at 5pm daily (repeated at 10:30am the following day). They just started from the very beginning a week ago, so if you jump in now you won't have missed much. This season has been a little weak, but generally it's a damn fine program. I know it looks wicked gay on the surface, but just trust me. I resisted at first, but I was hooked before too long.
Tonight's episode has the local streetcorner musician (played by
Grant Lee Phillips
, formerly of
Grant Lee Buffalo
) discovered by an agent. This apparently leads to an assemblage of other small-town troubadours, played by
Yo La Tengo
,
Sonic Youth
,
Sparks
,
Joe Pernice
, and
Sam Phillips
. In other events, Lorelai and Luke may be on the outs, and Logan unfortunately didn't die while base-jumping. Also, this looks to be the last ep helmed by the show's creators, who have left over contract disputes. I hope the new producers and writers realize it's never too late to have Logan meet some other disastrous, bloody demise.