Disclaimer: You'll Die Laughing.
...or perhaps you'll look on, bored and not even vaguely amused. I recently unearthed a bag of Creature Feature cards from the 70's and 80's which I had enjoyed as a kid and forgotten about.
These were sets of cards (the first sets from 1973 and the second from 1980) with stills from horror movies with comical captions: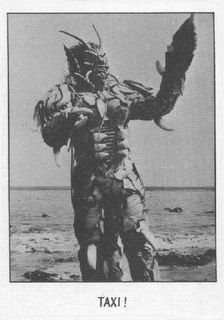 Okay, "comical" if you hadn't yet discovered Mad Magazine. Many folks apparently recall these cards as "You'll Die Laughing," because the backs have jokes and riddles with that heading, but they don't say "Creature Feature" anywhere on them. I was thinking of putting mine on eBay, but I think they're more or less worthless. They certainly aren't good for a laugh, as this limerick from the 1973 series attests:
Had the writer of this mess ever heard of a limerick before tackling the assignment? In the 1973 set, some of the incidental actors are replaced with badly pasted-in heads, most notably in this shot from "Abbott & Costello Meet Frankenstein":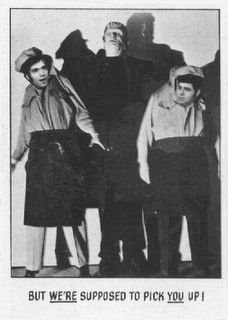 All the pics here are from other sites, mainly
this one
, where you can see all the cards--fronts and backs--from the 1973 sets. I take no responsibility for those who die or are otherwise maimed (e.g., split sides) by the viewing of these horrific hilarities...